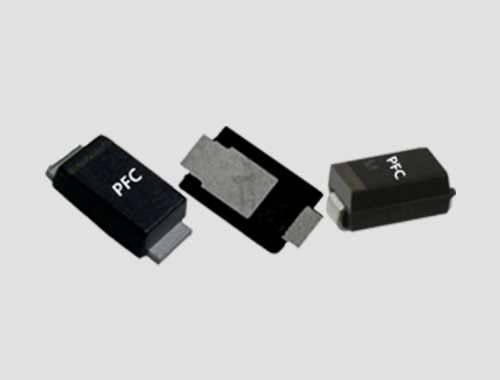 SMAF-A
PFC new development patterns SMAF-A package product for mobile phone charger and power supply applications Network & Communction need to develo...
MOS Rectifier Introduction
PFR series products combine low VF, low IR, high IFSM, high Tj, and high thermal stability advantages. Use of PFR products can support power supply designers to meet the stringent requirements of the pursuit of high efficiency, high reliability and high operating temperatures.
SLVF Schottky rectifier, the use of advanced semiconductor structures, is superior to the conventional planar Schottky to achieve better product characteristics and efficiency.PFC New SLVF Schottky rectifiers with lower VF, low IR, as well as faster switching speed can be used to enhance the efficiency of power supply and to meet a new generation of energy-saving specifications.
Development of new technologies
PFC R&D team is working on high-performance products such as development of MOSFET, Super Junction MOSFET, IGBT, Low VF Bridge product technology platform.
In the name of PFC, we will dedicate to explore newly and better efficient power electronics technology.