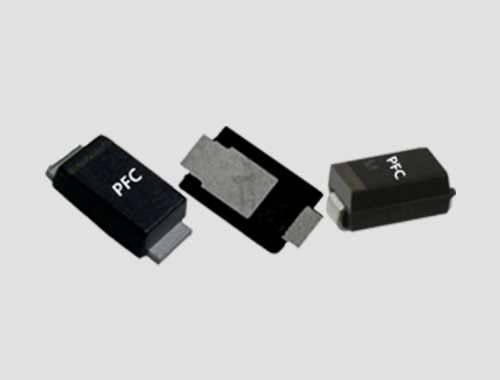 SMAF-A
PFC new development patterns SMAF-A package product for mobile phone charger and power supply applications Network & Communction need to develo...
PFC rectifier at 30V ~ 400V product technology provides different packages type and current specification.
30V ~ 60V Voltage range- mainly focus on MOS Rectifier.
80V ~ 150V Voltage range- mainly focus on SLVF/HPTR Rectifier.
200V ~ 300V High voltage application, PFC provide MOS rectifier which can improve the efficiency of the customer's power and can help the heat dissipation.
As to MOS and SLVF Schottky Rectifier, PFC provides three VF level provides:
(1) Standard VF (2) lowe VF (3) Super Low VF
Our advantages:
(1) Low forward loss (2) Low reverse leakage (3) High surge capability (4) Better thermal stability